No matter how much experience you have had with insurance companies or payer representatives, contract negotiation is a completely different animal. There's a lot to compile and prepare so you can convince a payer to make changes to your contract.
Find out what's included in current contracts
In most practices, payers make up 70–80% of the revenue, but most providers do not know what is in their contracts. Knowing everything you can about your contracts can empower you to increase your revenue and protect your practice from being taken advantage of.
Don't have contracts on hand? Or maybe you have a clause in a contract that makes it impossible to know what prices are at this moment? Start out your negotiation preparation by obtaining original copies of fee schedules from payers, keeping in mind that this can take up to 30 days to obtain.
You can also gather this information by looking through claims history. The downside with this method is that there are adjustments, depending on modifiers and multiple procedures, that could impact your allowables from claims. However, if you don't have the ability to access payer portals this is a good first-pass at obtaining allowables.
It's a good idea to know what's going on with every payer you work with, but you don't need every single payer contract/fee schedule before negotiations can occur. The top 5 payers (or so) that you work with will be the easiest to negotiate since you'll be able to share volume evidence that your contract is worth their time.
Optimize your prices
After you've compiled your payer contracts, dissect what they entail. You can make a difference in all aspects of your practice, from accounts receivable to patient satisfaction. Plus, recognizing the good and the bad in your contracts will empower you to make more informed decisions, building a strong foundation for success at your practice.

The most common pricing methodology is percent above Medicare, and that's because it's the simplest way to go. But Medicare is traditionally a lower, if not your lowest, fee schedule, meaning you are likely taking a lower fee schedule and doing a higher markup than is necessary. Plus, some commercial payers may have rates that are higher than 150% or 200% of your Medicare rate, which means that you might be leaving money on the table by setting prices at that fixed rate.

To help, Rivet has a pricing optimization report that looks across all fee schedules for the highest rate associated with that fee schedule. It'll also tell you what a good buffer price would be for that CPT code and help you be strategic in your pricing. In addition, we'll perform a small markup above the highest reimbursement rate to reduce the amount of contractual adjustments. Overall, this report will tell you if your prices are below any fee schedule (triggering the lesser-of clause that may appear in your contracts) and help you set your charge with a strategic defensible methodology.

Analyze your claims data
Gather the payer, plan/product, date of service, POS, CPT/HCPC, modifier, and volume so that you can accurately allocate usage of CPT codes. Then, pull a fee schedule that has a list of CPT codes or HCPC codes and rates, and allocate your volume to that specific CPT code.

With Rivet's pre-built tables (below), you can filter all of your claims data by virtually any criteria (e.g., filter by insurance provider and CPT code). Use this data in explaining the volume of claims associated with a particular payer.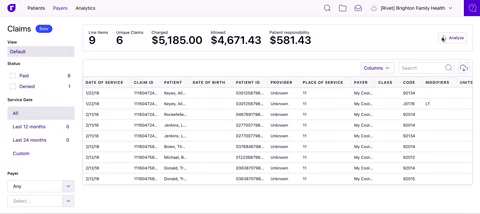 Create a dynamic model
From this information you can build out a dynamic model that will give you revenue feedback to see where you might be able to increase percentages (e.g., getting paid 15% more for a specific CPT code). This allows you to apply volume, at the specific CPT code level, to understand how changes would impact revenue.

Modeling is important for understanding what you have signed up for. At Rivet, you can compare current fee schedules to a proposal or other scenario to see how negotiations could impact your revenue with our fee schedule modeler (below). You'll see when a fee schedule will not benefit your practice so you can confidently push back on the payer.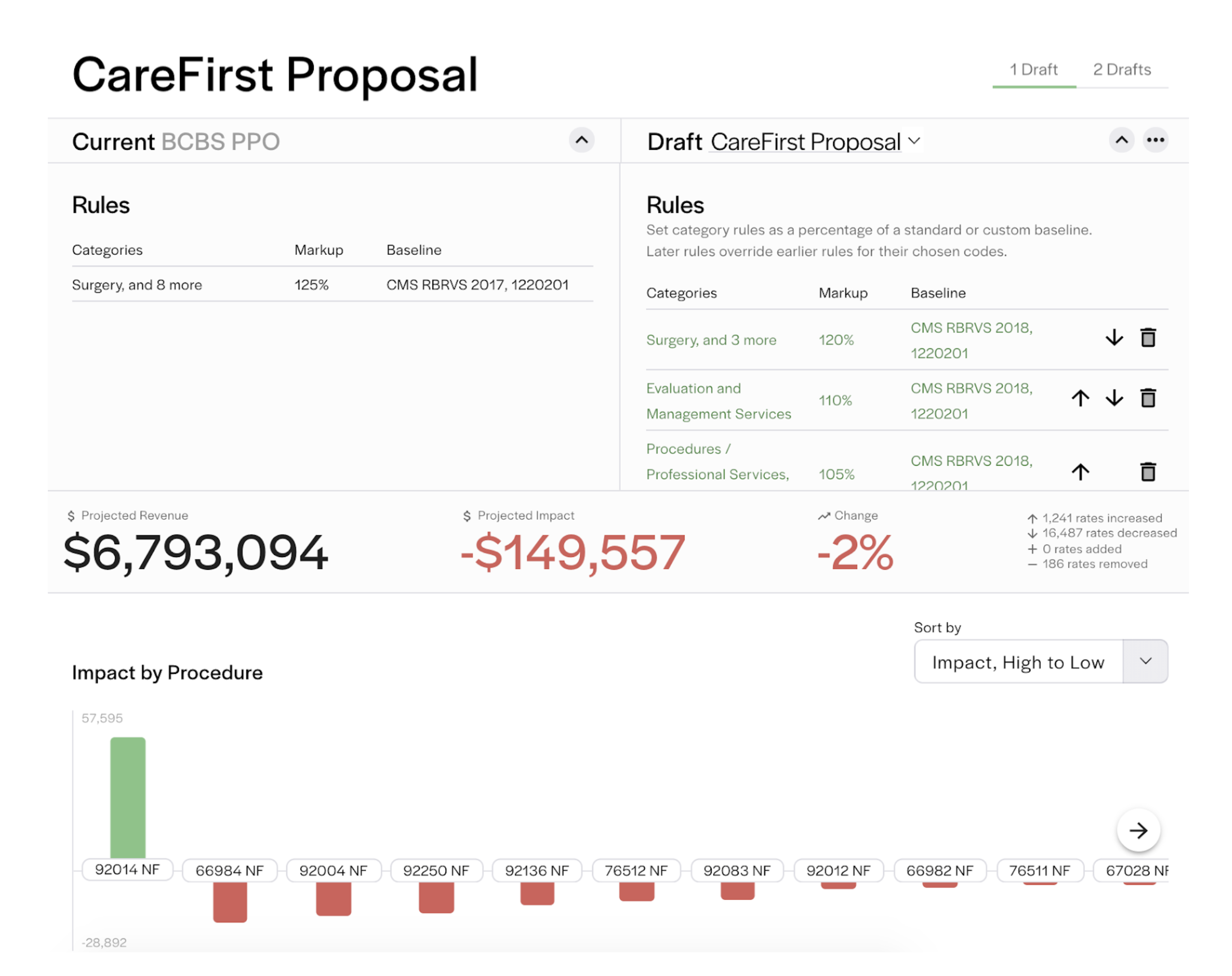 When considering a model to apply to your contracts, it's helpful to know what makes a model successful. We recommend considering the 3 A's:
Accurate: Ensure that your model produces correct values and that you are grouping codes correctly.

Automated: Your model should not be driven on manual, "hard-coded" inputs. Instead, revenue impact should dynamically shift based on automated inputs.

Actionable: A successful model should generate valuable insights that show you what needs to be addressed.
Gather additional information
In addition to modeling, it is critical that you know your value. Are you rated as a good provider? Do you have positive reviews? Gather any formal feedback or qualitative data around your patient experience so you can communicate your value back to the payer.

Possible areas to consider in gathering qualitative information include the following:
availability of care and accessibility
internal operations
unique procedures/unique methods
quality and outcomes
credentials/board certifications
and network cost containment.
Pro-tip: Start your qualitative data gathering with your team. Their experiences are valuable and usually easy to obtain.

Be mindful of deadlines
Payers have specific windows (change notification periods) where you can make changes or terminate your contract. As a result, it's crucial that you know when you can actually make changes to your contract and when you should take action. Remember—if you need a copy of a payer contract, you'll need to plan enough time to obtain fee schedule information on top of gathering any additional information.
Learn more about Rivet
Rivet is a reimbursement software that gives you the big picture of what's going on in your practice with payer contracts, underpayments and denials management. You can also check eligibility and provide accurate up-front patient cost estimates before services are rendered. The Rivet team will help you aggregate your fee schedules and input your claims data to enable you to increase revenue and decrease patient A/R days.
For more information about Rivet's tools, download our PDF that breaks down our products: