This is an excerpt from our webinar "Delivering an Up-front Patient Cost Experience", part of Rivet's Revenue Cycle Webinar Series. Watch the webinar on demand here.
As the financial landscape within healthcare shifts and patients evolve into consumers, transparency is key. Patients want to know what they will be paying up front and practices need to be ready to have strong financial discussions, accurately estimate costs, and efficiently collect payment. To accomplish this, it's a good idea to start developing a strategy for moving the cost transparency component up in the revenue cycle.


The Patient has Become the Payer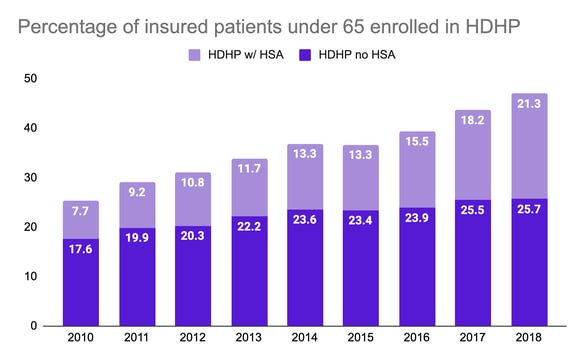 A major component in the shift to financial transparency is the growth of patient responsibility. In 2010, roughly a quarter of patients had high deductible health plans. Today, about half of patients have high deductible health plans, and that number, and the deductible rate associated with them, are growing. Along with this change comes an increased difficulty for patients to pay their bills as more and more of the cost of procedures comes back as their responsibility. Not surprisingly, because of this evolution, 92% of patients want to know their responsibility up front.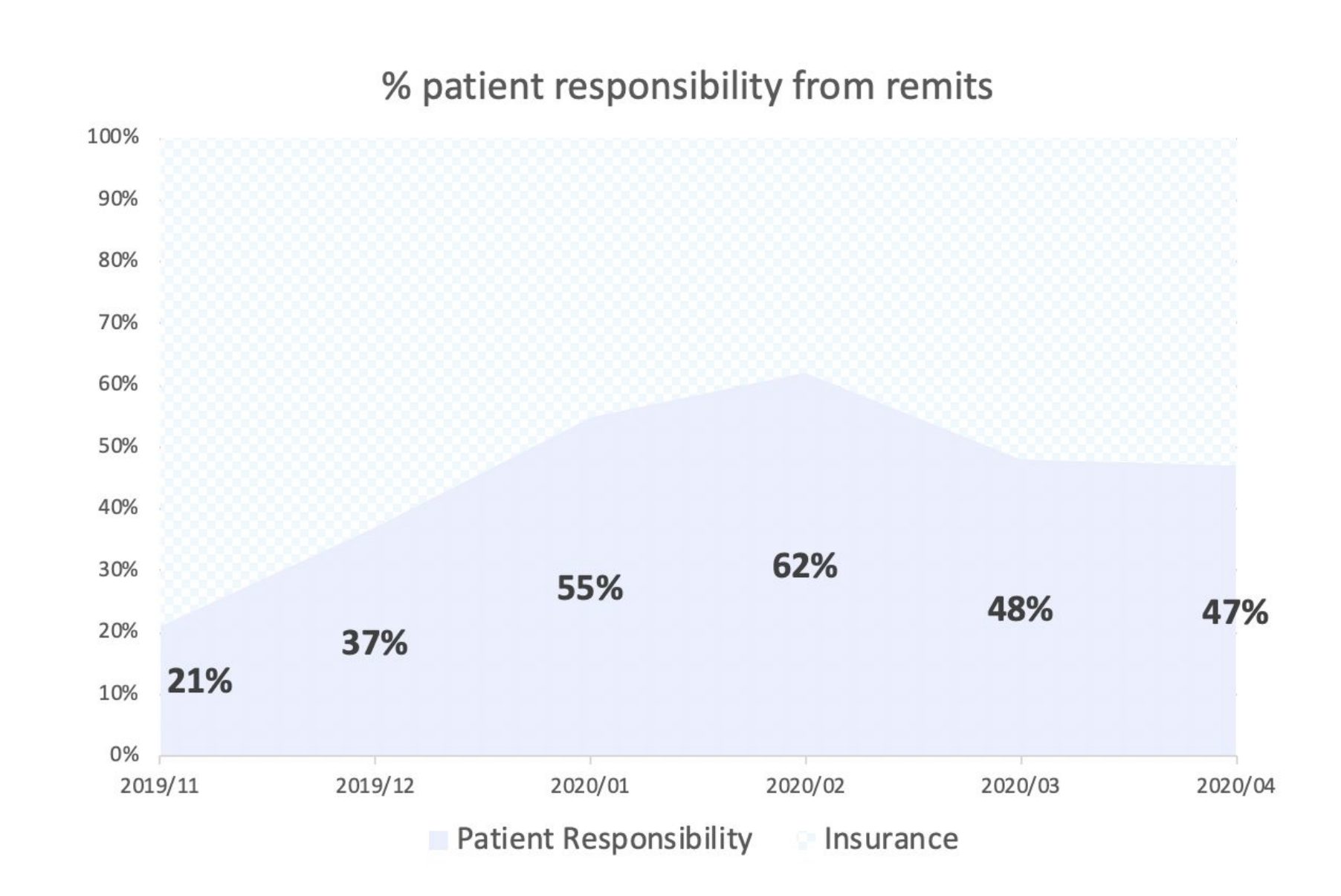 Aside from being informed on the cost of services, 62% of patients have said that knowing their out of pocket expenses in advance of service impacts their likelihood of pursuing care. This is especially true for at-risk populations where costs can really add up. At-risk populations generally include those with high deductible health plans, those who have surgical services and multiple procedures performed on the same day, patients who have a history of tough collections, or those with past bad debt or residual balances.
Since most practices have at-risk patients that fall into one or more of these categories, all practices should work to create a framework for financial transparency. It is better to know whether a patient will be equipped to pay rather than perform the procedure without an accurate estimate and have to write off bad debt.


Gearing up for Financial Transparency
As the provider, it's important to keep in mind that if you don't know what a service is going to cost, you cannot properly inform the patient or expect highly efficient collections. So, where do you start? Here's one framework that could help:
Verify benefits:

Begin by determining the patient's plan as well as their eligibility. Most EHR/PM systems have electronic eligibility, but if your payer doesn't, you can check with your clearing house or check provider portals. If nothing else, make a call to verify benefits, especially for high-dollar procedures.



Determining Allowables:

The preferred way to determine allowables is to check the payer's fee schedule. When checking a fee schedule, be sure they are not outdated. To streamline this process, you might consider gathering and compiling your fee schedules regularly for added ease when they are needed. (For tips on compiling fee schedules, see our article here.)

You can also refer to previous remittances (historical claims, 835/EOB) to determine allowables. These will tell you what the charge price is for each procedure code, the contractual adjustments, the actual allowables, and any discounts or adjustments for modifiers. Previous remittances will also give enough info to forecast the allowable. As a last resort you can also refer to cash to charge reports, which are only a best guess, but are often easy to manage.



Create an Estimate:

Creating a thorough estimate begins by assigning the right fee schedule during patient registration, recognizing which benefits will be covered by insurance. You will also want to determine the coverage guidelines, keeping an eye on any non-covered procedures within the payer policies to ensure proper adjudication.



Be Thorough:


Your practice will be most successful in implementing steps toward financial transparency through consistency. Make sure you have communication preferences set for the patient so that all updates and bills reach them effectively. Then, when communicating with a patient, verify their record each time, and ensure you are billing the correct person (i.e. guarantor vs. patient).

Before talking with a patient, encourage your team to be informed as to whether they have a previous balance so they can make them aware and move toward collecting. Lastly, help patients understand when multiple providers will be billing them for a procedure so they can be prepared when those statements arrive. You may even want to attach a disclaimer on the estimate letting them know that they should expect ancillary provider or facility charges.



Bring it all together:


Once benefits have been verified, services for the patient have been identified, and the allowables have been determined, you can create a physical estimate for the patient. From this point, the patient will be well informed and you can move forward with a payment request, and ideally, a payment completed in a timely manner.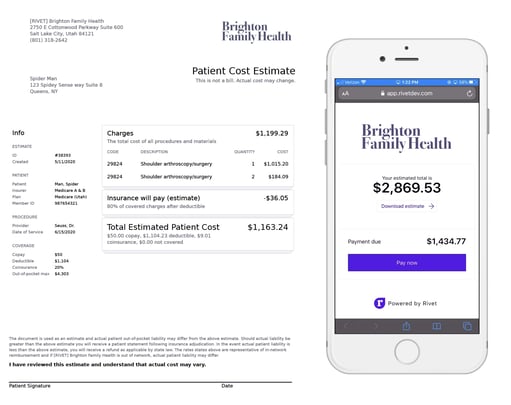 Shameless plug: Providing quick, super accurate estimates and collecting up front with mobile payments is one of the things we do at Rivet. The example estimate above came right out of our platform with just a couple clicks. See Rivet in action here.

Internal Process Changes
Working toward adding more transparency in your practice requires careful evaluation. Depending on the size of your practice, there may be several functional areas within your practice where you will need to work to get your teams onboard with policies that may need to be updated (i.e. provider team, scheduling team, insurance verification rep, registrations/check in team, cash posting rep, patient collections/AR). Although it might seem like a daunting task and training and practice may be required, we recommend working to set up a successful flow among the various teams in your office. It might look something like this:
First: The patient is scheduled.
Next: A team member assists them as their benefits are identified and verified.
Then: An estimate is created that the patient is satisfied with.
Finally: The clinical care is given and the patient pays their balance.
To improve the flow of your practice, your team should have an idea of your patient services. They should also be able to determine allowable rates from either fee schedules or historical claims. With that, applicable team members should have an understanding of insurance benefits, and have the access to verify benefits. You can expect a successful financial flow at your practice if there is alignment within the organization on how to estimate, quote, and collect on patient costs.
For more tips on the ways added transparency can result in greater patient satisfaction:
Watch the full webinar here
Read "Solving for the Patient Experience"