This is an excerpt from our webinar "Prioritizing Patients Accounts Receivable", part of Rivet's Revenue Cycle Webinar Series. Watch the webinar on demand here.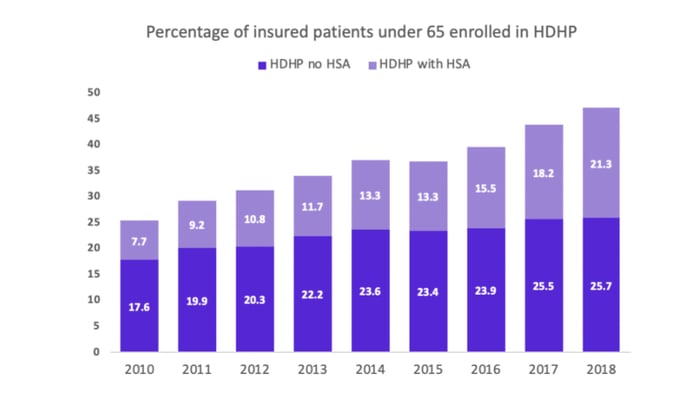 With HDHPs, patients are your payers
You've probably been hearing this a lot lately, but over the years your patients have become payers, too. The growth has primarily been led by high deductible health plans (HDHPs). In the last decade or so, HDHPs have almost doubled in the number of insured patients under 65. Going from a quarter of the population to almost half of the population moving on to HDHPs is a big deal, let's consider what that means.
On a regular basis we're starting to see plans that have $2500, $3,000, $5,000+ deductibles. Regardless of whether or not there's an HSA setup, that's a lot of money that needs to come out of the patients' pockets before the bulk of the insurance kicks in. In fact, two-thirds of HDHP insured patients state they would face financial hardship if they had to pay their full deductible. That increase in patient responsibility brings with it major collection challenges that we'll discuss later on.
The bill is no longer just an insurance claim
At Rivet, we work with a lot of surgical centers where surgeries cost $2,000+ -- that's a lot of money being shifted from the insurance responsibility onto the patient. With these HDHPs, the bill is no longer just an insurance claim. Across the calendar year, we're seeing an average of ~30% of the bill coming from patient balances. Considering the seasonality of meeting deductibles, that number is typically much higher earlier in the year. With many of the practices Rivet works with, as they run patient cost estimates and reconcile to bills, we're seeing 40-60% of the bill coming from patient responsibility in the early months of this year (January-March). On top of these higher patient balances, we're also seeing less and less procedures being covered by copay only. Instead, these procedures will go towards the deductible, co-insurance, and/or an out-of-pocket maximum.
With this shift in responsibility, practices now have to cater to a payer that is entirely different from the insurance companies. The standard operational processes (claims, filing windows, denials, appeals, etc) you have in place to collect the bulk of your revenue simply (and obviously) will not work with patients. Patients are humans, with different documentation, needs, and behaviors.
Collecting from patients is hard
There are four major themes that we typically cover when we talk to practices about collecting from patients:
1. Bills are confusing
There is a huge disconnect between what you and your patients actually understand. Working in a practice with patients, bills, and jargon every day, this stuff likely seems pretty straight forward. The truth is that 74% of patients are usually confused by their bill. Think about it. CPT and HCPC codes, in-network contractual adjustments, EOB statements, etc.-- there are a lot of technical components on a healthcare claim.
2. Collecting from patients is expensive
Simply put, collecting from patients is very expensive. If we think appealing to denials from insurance companies is high cost or takes a lot of time, think again. It's actually four times more expensive to collect from patients than it is payers. The variation from patient to patient makes building out efficient processes challenging and costly.
3. Collecting from patients is complex
The complexity of collecting from patients leads to 1 in 5 insured patients being sent to a collections agency, bad debt, or write-offs. Consider that 20% of your patient population is being sent to collections--that's a lot. In many cases, these aren't all ill-will patients who don't want to or can't pay their bills. We hear a lot of feedback that, by the third statement, many patients still don't actually know they have a balance.
4. Practices have accepted write-offs
Because collecting from patients is confusing, expensive, and complex, write-offs have become very common. An average practice writes off over 35% of the patient balance after a visit. That percent of potential revenue that means zero cash value for the practice.
Your systems aren't optimized for patient collections
When we consider processes internal to your practice, your systems are not optimized for patient collections. The big push for EHRs in the last decade or so was really focused on clinical workflows: Visit, charge capture, coding, charge entry, and dropping a claim. They were not built with an efficient patient collection process in mind.
Aside from what EHR or practice management system you're using, what other tools or tactics are you trying to collect from patients? Most practices are using two primary methods: direct mail statements and phone calls.
1. Direct mail
An average practice will spend almost $2 just to send one statement. Those are direct hard costs with very few ways to get around them. Postage, envelopes, paper, and employees or vendors that trifold and stuff the envelopes. If you're spending 10-20k+ statements a month, there's a huge direct cost tied to mailed statements.
2. Patient phone calls
Sure, just about everyone has a phone in their pocket that you can theoretically reach, but thanks to spam/robocallers, people are increasingly wary about picking up for unrecognized callers. Among practices that Rivet works with, many report calling patients 3+ times to collect on outstanding balances. Again, with thousands of patients, that's a time commitment and internal resources that really add up.
In summary, we know collecting from patients is difficult. As times continue to change, it will only get more challenging. Patients have become payers that cannot be ignored if you want a healthy, thriving practice. Use the resources below for strategies, processes, and quick wins for patient accounts receivable:
Watch the full webinar "Prioritizing Patient Accounts Receivable" here
Greasing the Wheels of Patient Collections