October 2021 Rivet Updates
Last month we made estimates even better and gave a sneak peek of our new software, but this month we're ready to share what our denials management software can do.
Denials Management

A collaborative database
Keep continuous record of instructions, policies and payer contact info by denial type.

All of your past work in Rivet is saved in one database, so you can solve a problem once and use that info again and again on similar denials, no matter which team member works a particular denial.
Intelligent worklists
Streamline your team's to-do lists with automated assignments and prioritized worklists organized by denial type.
Rivet automates your team members' task lists, tracks all your denials to completion and helps you stay on top of deadlines.
Automated forms and letters
Reduce manual data entry with auto populated appeal forms and letters.
Automate forms and data fields in Rivet so you can reduce error and manual data entry.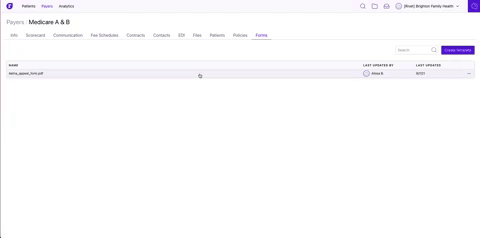 A comprehensive claim view
See all your claim information in one place, including adjustment and diagnosis codes.

Organize your claims data with Rivet's simple layout. You'll see all the line item claim details, adjustment codes and diagnosis codes all in one place so you can easily solve problems.
Want to learn more about Rivet? Schedule a demo here.