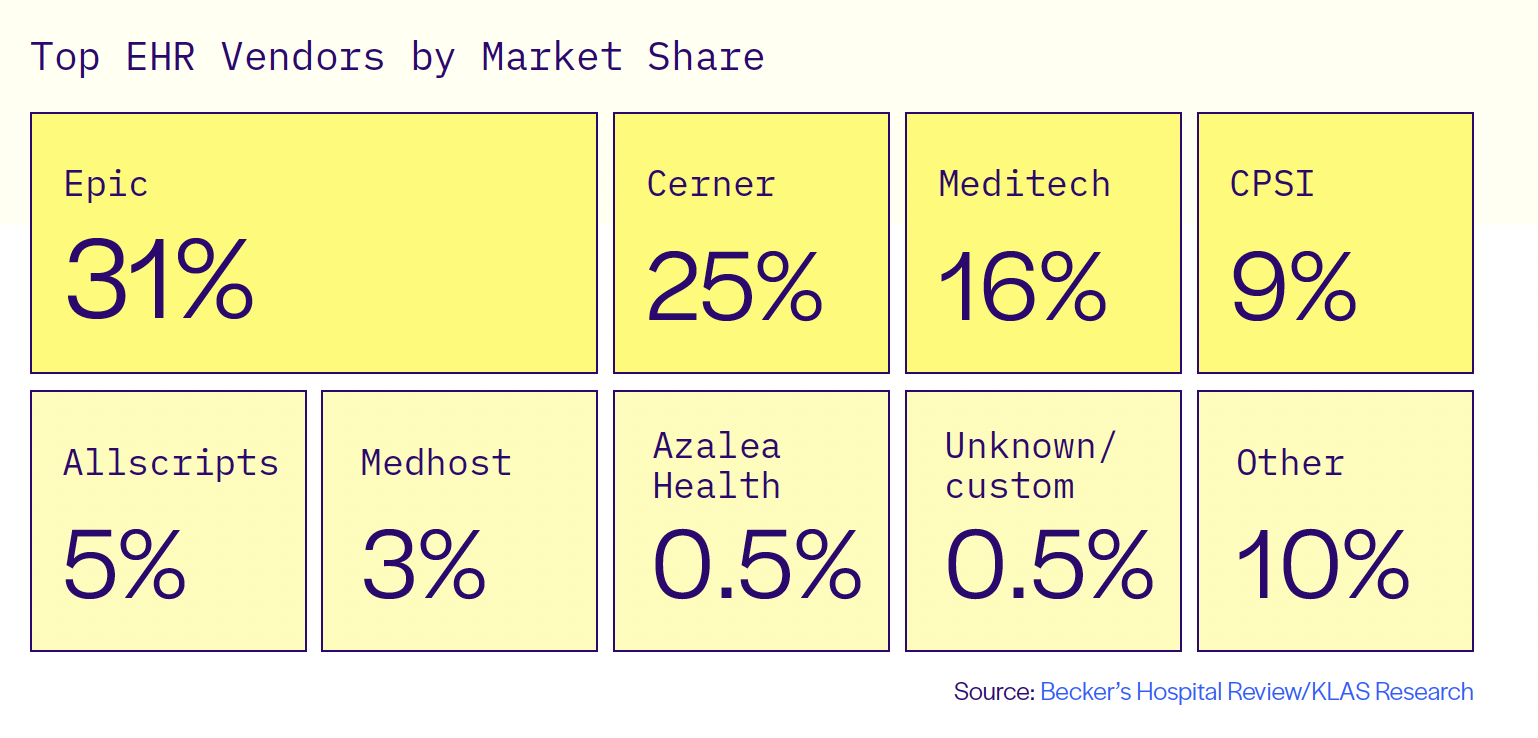 An Electronic Health Record (EHR) is an electronic version of a patient's medical history, maintained by the provider over time. There are many EHR systems throughout the United States, but above are the ones that are currently leading out in market share.
EHRs aren't new; in fact Regenstrief Institute developed one of the country's first electronic medical record systems almost 50 years ago. However, use has surged in the last 20 years or so.
In 2009, the Health Information Technology for Economic and Clinical Health (HITECH) Act enhanced EHR usage by specifically calling on healthcare providers to use EHRs in a meaningful way. That included protecting patients' privacy, electronically capturing patient data, and engaging in information exchange.
At first, CMS's "meaningful use" requirements offered incentives to providers who met each of its objectives and guidelines. Now, those not adhering to the HITECH Act may be penalized. And even though both incentives and penalties somewhat helped in persuading practices to adopt EHRs, adoption is still not at 100%.
As of 2017, however, 86% of office-based physicians had adopted any EHR, and 80% had adopted a certified EHR, according to HealthIT.gov. It also reported that in 2015, "more than four in five of all non-federal acute care hospitals had adopted a basic EHR with clinician notes [and] 96% of non-federal acute care hospitals have possession of an EHR certified by HHS."
A "certified EHR" as mentioned above refers to requirements from the Office of the National Coordinator for Health Information Technology (ONC) Health IT Certification Program, which makes sure that systems meet "the technological capability, functionality, and security requirements adopted by HHS," said the ONC. (Search products to see if they're certified here).
The meaningful use program has changed, too.
Now, the CMS EHR incentive program is called "Promoting Interoperability," and serves to promote healthcare's use of certified EHRs. In 2021, it focused on goals such as reducing the burden of technology on users and improving interoperability and patient access to health information.
With the usage of EHRs ever increasing, EHRs have gotten better and better in terms of what can be accomplished with them. They can be efficient, accurate and come with a wealth of data, but not all EHRs are created equal. Some EHRs may have a feature or two that you like, but it's important for your practice to have the right features to help your practice flourish.
There are a lot of factors that play into the usability of EHRs, and they can be daunting to consider and research. That's why guidelines, like ones from the Institute of Medicine (IOM), can help.
In 2003, the IOM identified core functions that all EHR systems should have. Although a lot has changed in the nearly 19 years since the IOM first made recommendations, the key components remain largely the same, only improved.
Here's how three of the core concepts have changed and how to apply these important functionalities into your search for the EHR that's perfect for your organization.
3 functions your EHR should have
#1: Powering active, not passive, data
EHRs used to be about storing healthcare data in a digital format (like a digital filing cabinet), but now EHRs can actively aid in health care.
For instance, EHRs can automatically scan for adverse medication reactions, alerting the prescriber that their patient has a documented allergy or takes medications that interact dangerously with a new one.
Several new technologies have even taken this a step further.
Some EHRs now use artificial intelligence (AI) to warn providers about possible sepsis in their patients. For example, The Johns Hopkins Hospital, among other hospitals, uses a machine learning algorithm that predicts which ICU patients will likely develop septic shock based on data in the EHR. Once it's "trained" the tool can predict 85% of cases.
#2: Ensuring interoperability and care coordination
The IOM suggested in 2003 that anyone who had access to the patient's EHR, whether it was in a hospital or affiliated clinic, could also access the patient's medical history and information that was stored there. This concept was to aid providers in coordinating the best possible care to their patients.
Today, data is easily transferred between parties (interoperability), whether that's between clinicians; between the EHR and pharmacies; between the patient and their medical records; or between EHR systems.
Interoperability becomes especially important, for instance, if a single system uses different vendors for its inpatient and ambulatory EHRs or for its inpatient EHR and billing system.
#3: Supporting electronic prescribing
In 2003, the IOM emphasized the importance of entering and storing orders for prescriptions, tests, and other services in a computer-based system.
Now, years later, EHR systems can electronically send orders directly to wherever they need to go (e.g., electronic prescribing (e-prescribing).
E-prescribing can improve accuracy and efficiency, boost patient medication adherence, reduce fraud and save time and money.
Although standalone electronic prescribing systems can be great resources, experts say it's important to have strong e-prescribing capabilities within the EHR itself.
EHR vendors with strong e-prescribing capabilities include Athenahealth, Inc., NextGen Healthcare and ScriptSure DAW Systems, Inc. These vendors won the 2021 Surescripts White Coat Award for e-prescribing accuracy.
Want to know more about EHRs and the other five core concepts that the IOM established as necessary for any EHR? Check out our ebook here.
Shameless Plug: Rivet's tools help your practice succeed.
Rivet offers software solutions that integrate with your EHR for up-front patient cost estimates (that align with the 2021 No Surprises Act), denials and underpayments. To see a demo and discuss billing pain points, schedule a demo with a Rivet business development representative.
To see a quick one page synopsis of our three products, click the button below for a free PDF.